Monday Night Ladies League
The 2018 has unfortunately come to an end. The Eagles staff wants to thank all the ladies who participated in the league this year!
If interested in joining the Monday Night Ladies League, the 2019 season will begin April 1st, 2019, and will be played every Monday night at 5:30 PM throughout the summer.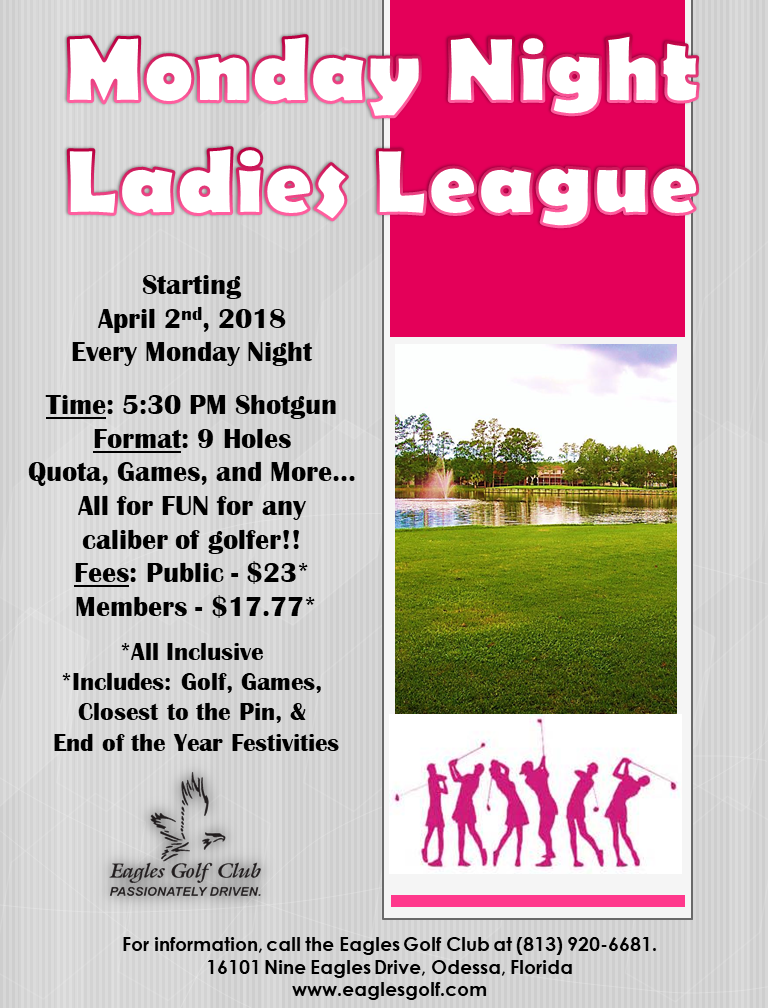 Below are the results for the 2018 season. Congratulations to all!
August 27th, 2018

Quota Game

Mary Mansour

T-1st Place

+3

Heidi Ferraro

T-1st Place

+3

Karen Doyle

T-1st Place

+3

Closest to the Pin

Hole #12

No Winner

Hole #16

Catherine DeFreitas
August 20th, 2018

Quota Game

Bonnie Lovell

T-1st Place

+2

Heidi Ferraro

T-1st Place

+2

Karen Doyle

3rd Place

Even

Closest to the Pin

Hole #12

No Winner

Hole #17

Bonnie Lovell
August 13th, 2018

Compared Holes

Joanne Colligan

T-1st Place

+4

Heidi Ferraro

T-1st Place

+4

Marsha Balash

T-1st Place

+4

Closest to the Pin

Hole #4

Joanne Colligan

Hole #6

Catherine DeFreitas
August 6th, 2018

Quota Game

Elaine Morelli

1st Place

+6

Bonnie Lovell

2nd Place

+5

Mary Mansour

3rd Place

+4

Closest to the Pin

Hole #12

Mary Mansour

Hole #16

Mary Mansour
July 30th, 2018

Crier's Dice

Rose Cascio

1st Place

+4

Karen Doyle

T-2nd Place

+2

Sandy Schofield

T-2nd Place

+2

Closest to the Pin

Hole #12

No Winner

Hole #17

Rose Cascio
July 23rd, 2018

Quota Game

Sandy Schofield

1st Place

+2

Elaine Morelli

2nd Place

+1

Sharon Harrison

3rd Place

+1

Closest to the Pin

Hole #4

Pam Bush

Hole #6

No Winner
July 16th, 2018

Black Jack 9

Heidi Ferraro

T-1st Place

E

Sandy Schofield

T-1st Place

E

Closest to the Pin

Hole #4

Bonnie Lovell

Hole #6

Sandy Schofield
July 9th, 2018

Quota Game

Jacqui Sequeira

1st Place

+3

Catherine Defreitas

T-2nd Place

+1

Sharon Harrison

T-2nd Place

+1

Elaine Morelli

T-2nd Place

+1

Closest to the Pin

Hole #12

No Winner

Hole #16

No Winner
July 2nd, 2018

Three Worst Holes

Rose Cascio

1st Place

+7

Sandy Schofield

2nd Place

+5

Closest to the Pin

Hole #4

Mary Mansour

Hole #6

Bonnie Lovell
June 18, 2018

Quota Game

Sandy Schofield

1st Place

+7

Bonnie Lovell

2nd Place

+5

Closest to the Pin

Hole #6

Caroline Bloomquist

Hole #8

No Winner
June 11, 2018

Quota Game

Sandy Schofield

1st Place

+8

Catherine Defreitas

2nd Place

+6

Closest to the Pin

Hole #4

Pam Bush

Hole #6

Mary Mansour
June 4, 2018

Odd or Even

Rose Cascio

1st Place

+3

Beverly Hall

T2nd Place

+2

Sandy Schofield

T2nd Place

+2

Closest to the Pin

Hole #12

Joann Colligan

Hole #16

No Winner
May 7, 2018

Blind 5

Bev Hall

1st Place

+2

Catherine DeFreitas

T2nd Place

+1

Bonnie Lovell

T2nd Place

+1

Sandy Schofield

T2nd Place

+1

Jacqui Sequiera

T2nd Place

+1

Closest to the Pin

Hole #12

Sandy Schofield

Hole #16

No Winner
April 30, 2018

Quota

Sharon Harrison

1st Place

+8

Mary Mansour

T2nd Place

+2

Caroline Bloomquist

T2nd Place

+2

Closest to the Pin

Hole #4

Sharon Harrison

Hole #6

Beverly Hall
April 23rd, 2018

Contest Holes

Hole #2

Closest in 2 Shots

No Winner

Hole #3

Shortest Drive

Sharon Harrison

Hole #4

Longest Drive

Bonnie Lovell

Hole #5

Closest to the Lake w/o Going In

Mary Mansour

Hole #6

Furthest from the Pin in 1 Shot

Mary Mansour

Hole #8

Closest to the Pin

No Winner

Hole #9

Longest Putt Made

Sharon Harrison
April 16, 2018

Low Putts

Sandy Schofield

1st Place

16 putts

Cathryn Myers

T2nd Place

17 putts

Marsha Balash

T2nd Place

17 putts

Joann Colligan

T2nd Place

17 putts

Closest to the Pin

Hole #4

Joann Colligan

Hole #6

Catherine DeFreitas
April 9, 2018

Bingo, Bango, Bongo

Cathryn Myers

1st Place

15 pts

Mary Mansour

T2nd Place

11 pts

Karen Doyle

T2nd Place

11 pts

Sharon Harrison

T2nd Place

11 pts

Closest to the Pin

Hole #6

No Winner

Hole #8

Cathryn Myers
April 2nd, 2018

Closest to the Pin

Hole #4

Beverly Hall

Hole #6

Elaine Morelli
If you are intersest in joining the Monday Night Ladies League or have any questions regarding the league, call the Eagles Pro Shop at (813) 920-6681 or e-mail Whitney Wenglasz at [email protected]